Yes, Its me mofu23 off on a little break.
I feel like this is some neccesary information to all the people looking to get more out of their PC. Before i go on, i should let you all know that the following items WEREN'T made by me. Credit will be given. Now without further ado, lets get to the fun part. Here was my desktop a month ago.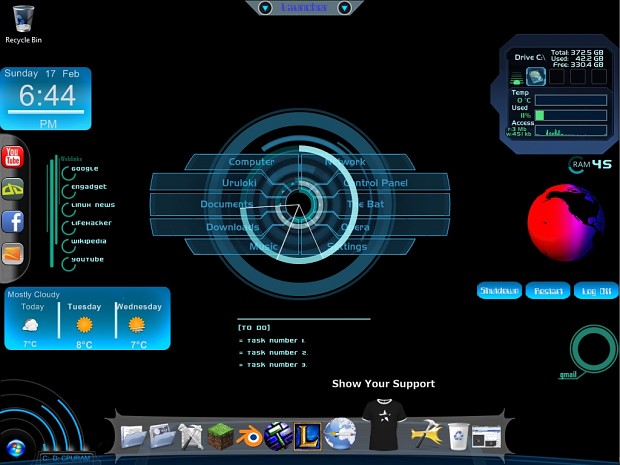 Its even better now though. Now onto how to add them.
Rainmeter: http://rainmeter.net/cms/
Rainmeter is basically a desktop customization tool that allows you to post "apps" on your screen. There are plentiful design options to choose from. In the time this picture was taken I used Mass Effect, and distant planet skins. This app works on Windows XP/Vista/7/8
Rocketdock: http://rocketdock.com/
If you wished to make your Windows look a little like a Mac, this toolo is for you. Rocketdocks is a application launcher similar to mac application launcher. This tool can be used to add any application but its still in its beta so dont expect a lot from it. Works on Windows XP/Vista/7/8
DreamScene7: http://dreamscene.org/
Vista user dont have to get this tool (at least i dont think so). This tool allows windows 7 users to add animated wall paper. YES, ANIMATED. There is a similar tool for windows XP called XPscene but I'm a little unfamiliar with it. Again this only works on Windows XP/7. No 8 sorry.
DeskSpace: http://www.otakusoftware.com/deskspace/
Unfortunatly, this tool isnt free like the others. But what this tool does is that it gives your windows computer a 3D user interface. Its pretty cool but unless you have $24 then i suggest look for something else.
REMINDER: I DONT OWN THESE DON'T COME CRYING TO ME IF YOU CAN'T GET IT RUNNING. ASK THE CREATORS.