Custom Perk-a-Cola Jingles and Stings
As always, make sure you grab/are using the
latest FGD
!

   This tutorial will go into detail about how to add Perk-a-Cola jingles into your map, this is not mandatory for maps and files will not be provided in this thread, be sure to check the 'Other Content' section in the forum, as I and hopefully others will be posting sounds for you to use in the future!

   The process is quite simple, we'll start off by creating a perk entity of our choice, for this tutorial I am going to use Mule Kick, or, perk_mule.

---

   Now we can enter the Properties window for our perk, it should like something like this, though keep in mind further updates and varying map utilities can result in something different: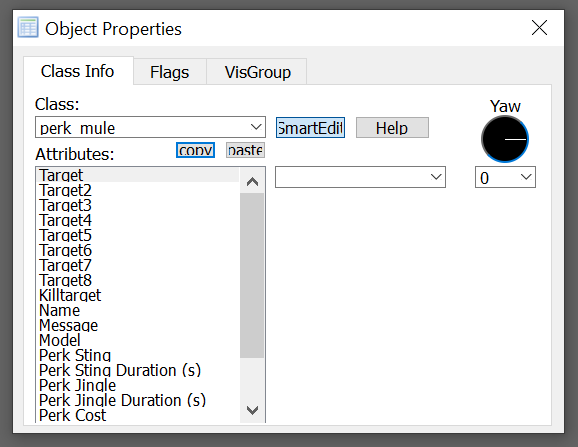 ---

   Next up, we are able to fill out the necessary fields, here's a brief explanation of them all:




Perk Sting - The Perk's 'sting', also known as the short jingle. It is played when the Perk is purchased.

Example: 'sounds/music/jug_sting.wav'

Perk Sting Duration (s) - The Duration/Length of your Perk Sting, in seconds.

Example: 10

Perk Jingle - The Perk's primary jingle, will play at random intervals throughout the map.

Example: 'sounds/music/jug_jingle.wav'

Perk Jingle Duration (s) - The Duration/Length of your Perk Jingle, in seconds.

Example: 74

---

   After you enter all of those fields, assuming they're all correct, you can compile your map and load into the game, and hear the Jingles in action!

---

   Please be cautious and considerate concerning RAM usage on PSP systems, it's recommended to avoid using full-length jingles as they can be quite massive, as well as to ensure the bitrate is lowered on the PSP-specific map link!