This guide
assumes basic mapping knowledge
.
Check this thread if you haven't already:
https://nzportable.forumotion.com/t1986-nzp-mapping-guide
Also ask for help or show off your creations in the NZP Discord:
https://discord.gg/6GBGf4N
Introduction
So what the hell is
Trenchbroom
and why am I telling you to use it instead of
JACK Hammer
?
Simple, Trenchbroom is so much
easier and intuitive
to work with, especially for
level geometry
.
It flat out makes JACK Hammer look like cavemen tools.
If that tickles your interests (or you don't believe me and want to see proof),
check out this excellent
tutorial playlist
which will get you
familiar with the tools
:
Here's a screenshot of what the editor looks like: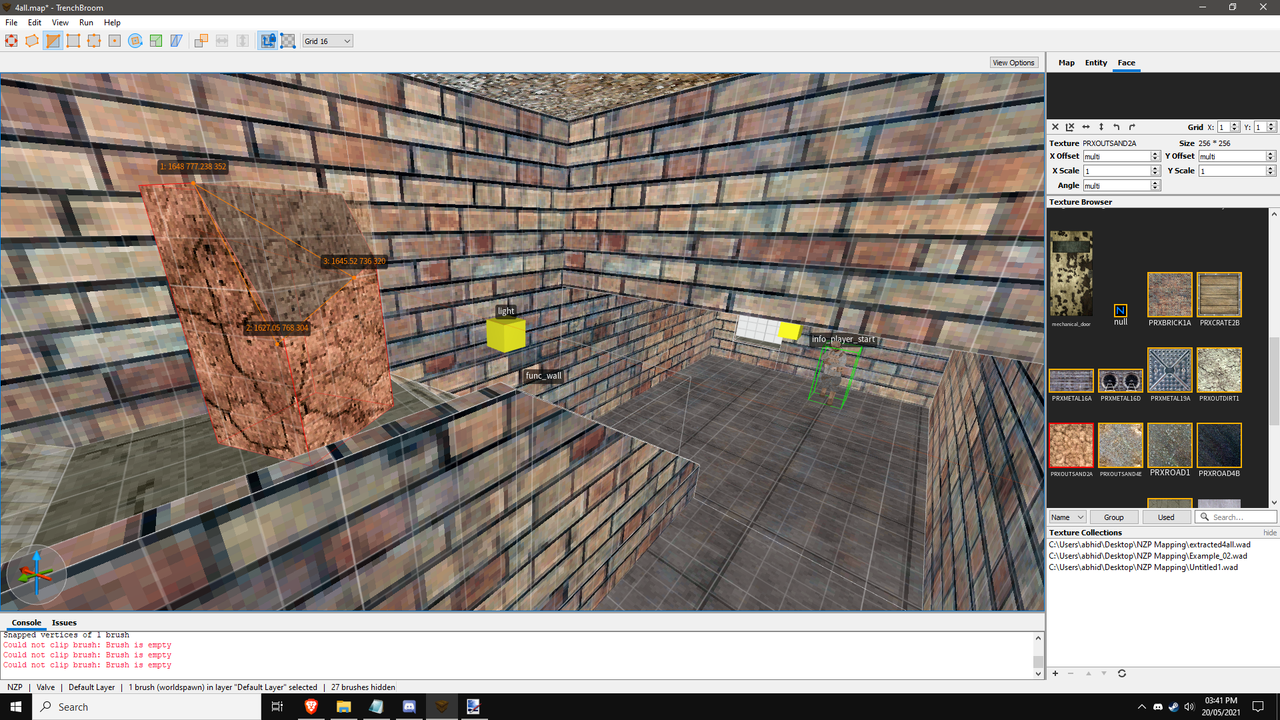 As you can see, it's centred around the
3D view
(and i'm just messing around with the clip tool here).
Getting Started
So obviously you need to
download NZP Reboot
and
compile the progs
:
https://github.com/thyjukki/NZP-Reboot
But what else? Well for starters,
download Trenchbroom
:
https://github.com/TrenchBroom/TrenchBroom/releases
You'll also want to use this
custom profile
made for NZP which contains the
necessary entity definitions
as well as
some nice tweaks
:
https://drive.google.com/file/d/1IiP5jQsbiUojh43-XY5GwqrOh4DntRVs/view
Next, you'll need to be able to actually
compile the map
into something (vaguely) playable so
grab them here
:
http://www.zhlt.info/download-zhlt.html
Finally, you'll be wanting some
textures
to decorate your map (unless you like seeing pink+black squares everywhere).
NZP uses the
wad3 format
like half life 1 and counter strike 1.6, so you can probably
grab them online
.
Alternatively, you could
make them
yourself using
Wally
, though that'd be outside the scope of this tutorial.
If you need something to get you started though, there's some wads in the
NZP Reboot textures folder
.